News
News
The Institut of Sport and Preventive Medicine and the German Swimming Federation (DSV) are hosting the first symposium"Science and Swimming" on the 22nd of November 2019. Internationale experts from science and practice will present on various topics important for elite swimming:
Dr. Tom Vandenbogaerde
(Swimming Australia)
Periodization in swimming
 
Prof. Tim Meyer & Dr. Sabrina Skorski
(Universität des Saarlandes)
Medizinische und Sportwissenschaftliche Aspekte in der Vorbereitung auf Tokyo 2020
 
Dr. Lachlan Mitchell
(Queensland Academy of Sport)
Anaerobic testing in swimming: the 12x25m test
 
Ilka Staub
(Deutsche Sporthochschule Köln)
Relativer Alterseffekt im deutschen Schwimmsport
Emmet Crowly
(University of Limerick)
Strength training in elite swimming
 
Fabian Loch
(Ruhr-Universität Bochum)
Mentale Erholung im Leistungssport
The registration fee is free for students of the M. Sc. High-Performance Sport. Please register via email (s.skorski@mx.uni-saarland.de) until the 11. of November 2019 .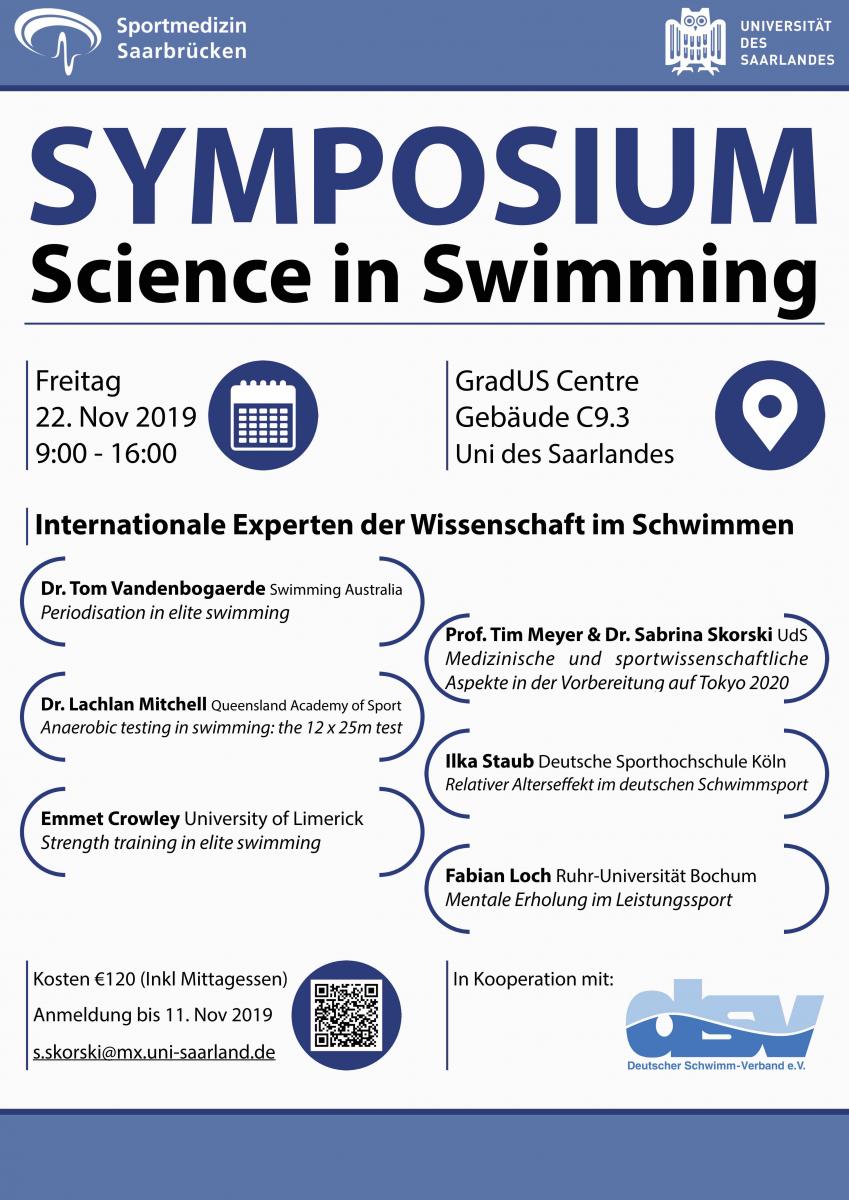 Start of the programme
After many months of planning and preparing we are welcoming our first students in the international M. Sc. programme High-Performance Sport. Thirteen Students from seven different countries started the degree in this winter term. Before the start of the lectures we organised a "Welcome Week", including many different cultural and scientific activities. For example, students were invited to a city rally, participated in a "Science meets practice" Symposium, including speakers from research and the applied field, and travelled to Strasbourg to visit the European parliament. Of course, we also provided a lot of useful information on the degree organisation as well as our international partners, who travelled to Saarbrücken from Australia, England and the Netherlands.